List 4 clinical signs typically found on chest examination that will fit with the findings on this chest X-Ray?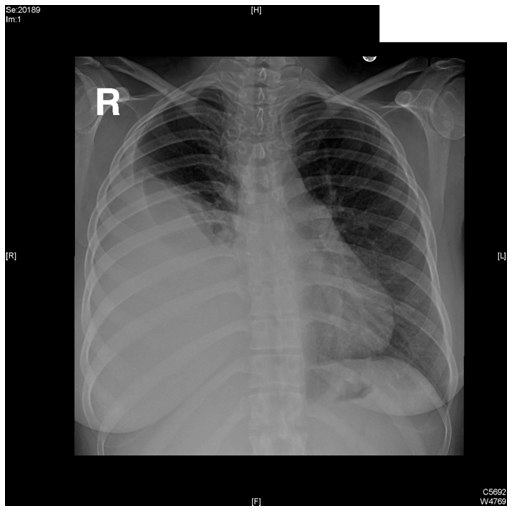 College Answer
Tachypnoea
Decreased chest expansion
Dull percussion note on R
Decreased VR
Absent breath sounds R. base / Whispering pectoriloquy above level of effusion
Apical impulse shift to left
Discussion
To the college answer, I would add that the percussion note will be "stony" dull, and that the "decreased chest expansion" they mention will be unilateral. As for the apex shifting to the left - I can see no evidence of that from the chest Xray; and yes that really is the CXR from the original paper (back when the college did not realise that it would be easier to just re-use the same pictures in every paper). One additional thing to consider is the sounds from the collapsed lung overlying the effusion: if the college expected to get whispering pectoriloquy, then bronchial breath sounds and creps would also be expected on auscultation there.
An excellent article from a bygone era when people actually listened to lungs (Sahebjami & Loudon, 1977) lists several characteristics. This was remixed with the college answer to give what is hopefully a more comprehensive list of clinical features
"A heavy or tight feeling" in the chest
"a gurgling sensation on changing posture"
Shortness of breath, tachypnoea
Pain (though this usually preceeds the effusion) - referred to the shoulder
Cough
"Stony" dullness to percussion
Absence of breath sounds
Absence of vocal fremitus (perhaps this is what the college referred to when they included "decreased VR" in their answer?)
Decreased chest expansion on the affected side
Bronchial breath sounds and creps above level of effusion
Whispering pectoriloquy above level of effusion
Features of mediastinal shift: displaced apex beat, trachea off midline