You have decided to initiate CVVHDF in a septic patient with acute renal failure. The CVVHDF circuit is set up as shown below. What are the advantages of the replacement fluid administered as shown in the diagram?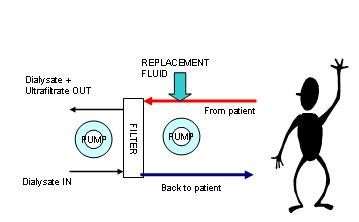 College Answer
Advs:
- Flush for filter and prolong filter life by reducing clotting in filter
- May increase urea clearance by elution from red cells
Discussion
This question asks the candidate to identify a pre-dilution fluid replacement strategy from a MS Word clip-art diagram, and then to list its advantages. The two replacement fluid techniques are compared in a summary chapter from the Required Reading section. There is also a whole big thing on this topic in the Renal section from the Primary Exam revision section.
In brief, the "advs" of the pre-dilution fluid replacement strategy are as follows:
Ultrafiltration rate is not limited by the blood flow rate (one can simply give more pre-dilution fluid if one wants more ultrafiltration to occur)
Elution of urea from RBCs is enhanced (urea migrates out of them into the diluted plasma)
Filter life is increased, as the haematocrit throughout the filter remains reasonably low
One may minimise, or even completely avoid the need for circuit anticoagulation
With increased filter lifespan, one may achieve a higher solute clearance over the whole (longer) session, even though hourly solute clearance may be decreased.
References
Mariano, Filippo. "Continuous Renal Replacement Therapy (CRRT) in Intensive Care." Practical Issues in Anesthesia and Intensive Care 2013. Springer Milan, 2014. 131-144.
Zhongping Huang, Jeffrey J. Letteri, Claudio Ronco, Dayong Gao, and William R. Clark "Predilution and Postdilution Reinfusion Techniques"; in: Critical Care Nephrology by Ronco, Bellomo and Kellum (2009) pp. 1370
Ronco, C., et al. "The haemodialysis system: basic mechanisms of water and solute transport in extracorporeal renal replacement therapies." Nephrology Dialysis Transplantation 13.suppl 6 (1998): 3-9.
Uchino, Shigehiko, et al. "Pre-dilution vs. post-dilution during continuous veno-venous hemofiltration: impact on filter life and azotemic control." Nephron Clinical Practice 94.4 (2004): c94-c98.
Nurmohamed, Shaikh A., et al. "Predilution versus postdilution continuous venovenous hemofiltration: no effect on filter life and azotemic control in critically ill patients on heparin." ASAIO Journal 57.1 (2011): 48-52.