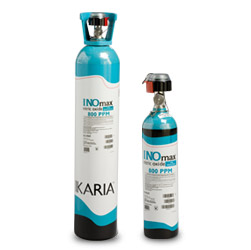 a) What does the cylinder pictured above contain?
b) What parameters are monitored during administration of the cylinder's contents?
College Answer
a) Nitric oxide 800ppm and Nitrogen

b) PO2 pulmonary artery pressure, methaemoglobin and nitrogen dioxide
Discussion
The marvels and wonder of nitric oxide are discussed elsewhere.
The following adverse effects have been reported with its use:
Methemoglobinaemia, as abundantly discussed already
Hypotension (maybe some of it does leak into the systemic circulation, or maybe this the effect of depressed LV function
Rebound hypoxia after abrupt withdrawal
Thrombocytopenia (in as many as 10% of patients)
Increased susceptibility to pulmonary infections probably due to NO2 formation and associated lung injury
The college recommend some monitoring:
PO2 and presumably by extension SpO2, which seems like something standard for a hypoxic patient
Methaemoglobin levels, which are measured by all good ABG machines - and frequent ABGs appear inevitable in any situation in which nitric oxide therapy is seriously considered
PA pressure, which implies a PA catheter. This cannot be viewed as a mandatory step in the modern era, but most studies of nitric oxide come from a time when most ICU patients would have had a PA catheter.
Nitrogen dioxide levels, which seems problematic. The measurement of NO2 in air by the colorimetric Saltzman method (1960) using a commercially available badge device is possible at 1ppm resolution, but this is usually something done to monitor air pollution. Electrochemical or chemoluminiscent analysers for expired gas do exist (Fox, 2009), but their availability is limited. In the lung its activity is local and mainly due to its tendency to cause oxidative stress (it produces nitric and nitrous acids upon contact with water), which makes measurement of blood NO2 levels some combination of difficult and pointless.
There are some official (1997) UK guidelines for the use of nitric oxide, which recommend:
Monitor for a 20 % rise in PaO2 as a test of a dose response (20% rise is a minimum response)
Monitor NO and NO2 concentration in expired gas using an electrochemical analyser (maximum NO2 concentration should be no more than 8ppm over an 8 hr period)
Monitor methaemoglobin levels at 1hr, 6 hrs and thereafter daily or with dose increases