College Answer
a) Concepts behind intra-aortic balloon counterpulsation (IABCP)
Classic concept of intra-aortic balloon counter pulsation involves inflation in synchrony with aortic valve closure at the onset of isovolumic diastole and the appearance of the dicrotic notch
This displaces blood comparable to the balloons volume into the peripheral circulation during diastole
To accomplish further unloading and to prevent interference with left ventricular ejection, balloon deflation starts prior to opening of the aortic valve and the onset of LV ejection
The classic response is thus is a lowering of the systolic pressure and augmentation of the diastolic pressure
The main benefits are a decrease in afterload and increased coronary artery perfusion with secondary improvements in hemodynamics
b)
A = Assisted systole
B = Diastolic augmentation
C = Unassisted systole
D = Unassisted aortic end-diastolic pressure
E = Dicrotic notch
F = Assisted aortic end-diastolic pressure
Image intensifier screening during insertion
Length of catheter inserted should be distance from insertion point to umbilicus, plus distance from umbilicus to sternal angle
Position on TOE should be 2 cm distal to L subclavian
CXR to confirm position - Just above the level of the left main bronchus or 2nd or 3rd intercostal space
e) Methods can be used to trigger the IABCP
e) Problem
• Balloon rupture should be suspected. IABCP catheter should be disconnected from console. It should then be removed (and replaced if it is still needed).
Discussion
IABP is discussed in greater detail elsewhere.
Briefly, outline the concepts behind intra-aortic balloon counterpulsation (IABCP)

The balloon inflates in diastole, displacing aortic blood both into the systemic circulation and into the coronary arteris.
The ballon deflates before systole, decreasing aortic pressure
Diastolic augmentation thus improves coronary blood flow
Systolic augmentation this decreases afterload and LV workload
Identify the points labelled A-F on the following intra-aortic balloon pump pressure-time trace?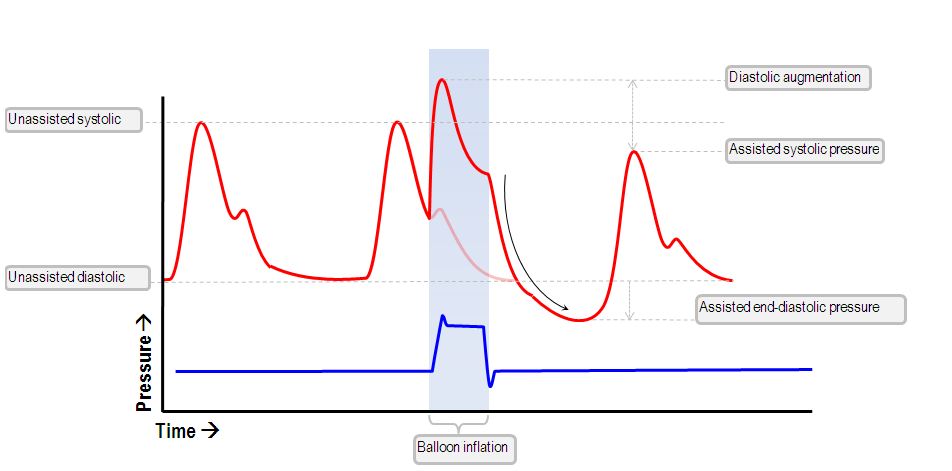 What methods can be used to check that the IABCP catheter is in the correct position, both during and after insertion?

Measurement of the length of insertion: from insertion point to umbilicus, plus distance from umbilicus to sternal angle
Fluoroscopy-guided insertion
TOE
CXR
Alternatively (and dangerously) one can retract the IABP until it no longer causes diminished left subclavian bloodflow.
What methods can be used to trigger the IABCP?

Blood pressure
ECG
Pacemaker
Blood is seen in the tubing connected to the gas lumen of the IABCP catheter. What problem do you suspect, and what action should be taken?

This means the balloon has ruptured. The IABP tends to stop pumping on its own when this happens - loss of helium pressure triggers the off-valve. The next step is to remove it.