Discuss the pharmacokinetic factors that affect drug half-life.
College Answer
Half-life (t½) is the time required to change the amount of a drug in the body by one-half during elimination. Candidates were expected to discuss the two main factors which affect drug half-life, namely volume of distribution and clearance. Marks were awarded for the formula (t½ = 0.693 x Vd /CL), the factors which affect the volume of distribution and drug clearance but not for a discussion of factors affecting drug absorption.
Discussion
The college did not ask the candidates to define half-life in the question, but they defined it in their answer. According to the official text (Birkett et al, 2009), "Half-life is the time take for the amount of the drug in the body (or the plasma concentration) to fall by half".
Half-life is described by the equation: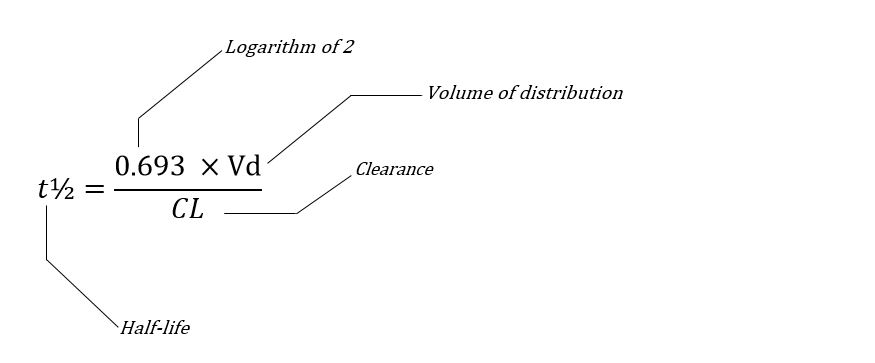 Half-life of drugs is therefore influenced by the following factors
Volume of distribution, which is in turn influenced by:

Properties of the drug, including molecule size, charge, pKa, protein binding, tissue binding and lipid-water partition coefficient
Properties of the patient's body fluids, including volume status, protein content, body fluid pH and presence of drugs which compete for binding sites
Pathophysiological states, including age, gender, obesity, pregnancy, and oedema
Presence of extracorporeal sites of distribution, eg. circuit fluid content and drug-adsorbing circuit components

Clearance, which is in turn influenced by:

Concentration of the drug
Susceptibility of the drug to biotransformation (i.e. clearance by metabolism, usually hepatic)
Susceptibility of the drug to removal by filtration or diffusion (i.e. clearance by the kidneys, lungs etc)
Active excretion of the drug (its removal by active transort mechanisms)
Functional status of clearance organs (eg. liver and kidneys)
Blood delivery to organs of clearance
References
Gibaldi, Milo, and Gerhard Levy. "Pharmacokinetics in clinical practice: I. concepts." Jama 235.17 (1976): 1864-1867.
Rowland, Malcolm, Leslie Z. Benet, and Garry G. Graham. "Clearance concepts in pharmacokinetics." Journal of pharmacokinetics and biopharmaceutics 1.2 (1973): 123-136.
Greenblatt, David J. "Elimination half-life of drugs: value and limitations." Annual review of medicine 36.1 (1985): 421-427.
Toutain, Pierre-Louis, and Alain BOUSQUET‐MÉLOU. "Plasma terminal half‐life." Journal of veterinary pharmacology and therapeutics 27.6 (2004): 427-439.
Goel et al; "Clinical significance of half-life of drugs" Inter. J. of Pharmacotherapy / 4(1), 2014, 6-7