This chapter is relevant to Section G7(iv) of the 2017 CICM Primary Syllabus, which asks the exam candidate to "describe the methods of measurement of cardiac output including calibration,
sources of errors and limitations".
GEDV is the difference between the ITTV and PTV
The Pulmonary Thermal Volume (PTV) can be subtracted from the IntraThoracic Thermal Volume (ITTV).

MTt (Mean Transit Time) multiplied by cardiac output(CO) determines your ITTV (intrathoracic thermal volume)
The other time parameter is your Down Slope Time (DSt)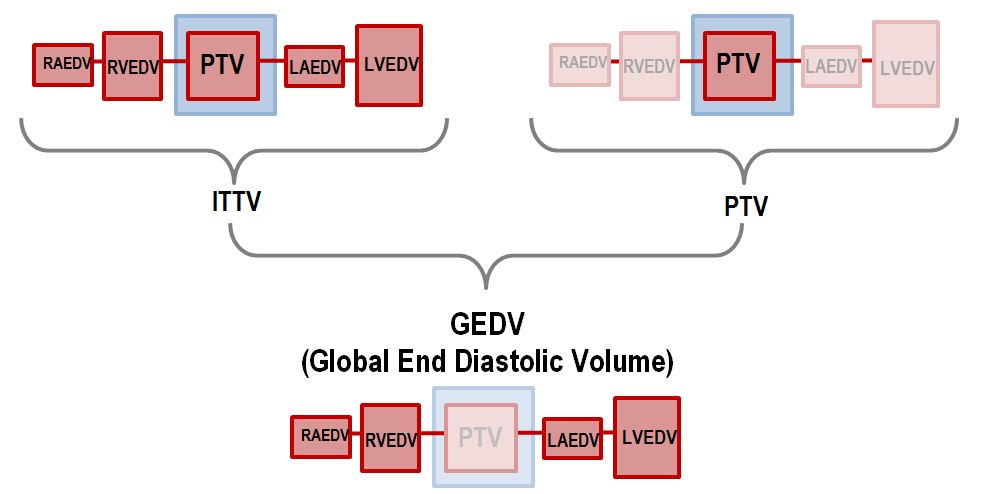 Remembering that ITTV and PTV are derived from MTt and Dst,
GEDV is a poor predictor of fluid responsiveness.
GEDV relates well to preload, but somehow not to fluid responsiveness.
In his 2009 review, Marik et al trashed GEDVI as a means of predicting fluid response - it was no better than CVP or PAWP, which is to say "next to useless". Additionally, GEDV loses its correlation with preload in early sepsis.
So, in short, GEDV and GEDVI should not be used to guide volume resuscitation. The details of how this heavily marked static parameter became popular are discussed in a dedicated chapter in the Fluid Resuscitation section.