This chapter is only vaguely related to Section F8(vii) from the 2017 CICM Primary Syllabus, which expects the exam candidates to be able to "describe physiology and consequences of abnormal haemoglobin". In actual fact, the chapter is concerned with the measurement of normal haemoglobin, and more specifically with its measured concentration as determined by the blood gas analyser. The ABG machine reports this variable as ctHb, the concentration of total haemoglobin. This variable is measured directly, using visible absorption spectroscopy. The local unit features a 128-wavelength spectrophotometer with a measuring range of 478-672 nm.
In brief summary:
Total haemoglobin is the sum of all haemoglobin species, including oxygenated and deoxygenated adult haemoglobin, carboxyhaemoglobin and methaemoglobin.
This is a measure of potential oxygen-carrying capacity
It does not define the effective oxygen carrying capacity, because it incorporates haemoglobin species unsuitable for oxygen transport.
Measurement of total haemoglobin by spectrophotometry
As already discussed, for each blood gas sample, 128 separate wavelength-absorbance measurements are taken, and a graph can be generated, where absorbance can be plotted as a function of wavelength: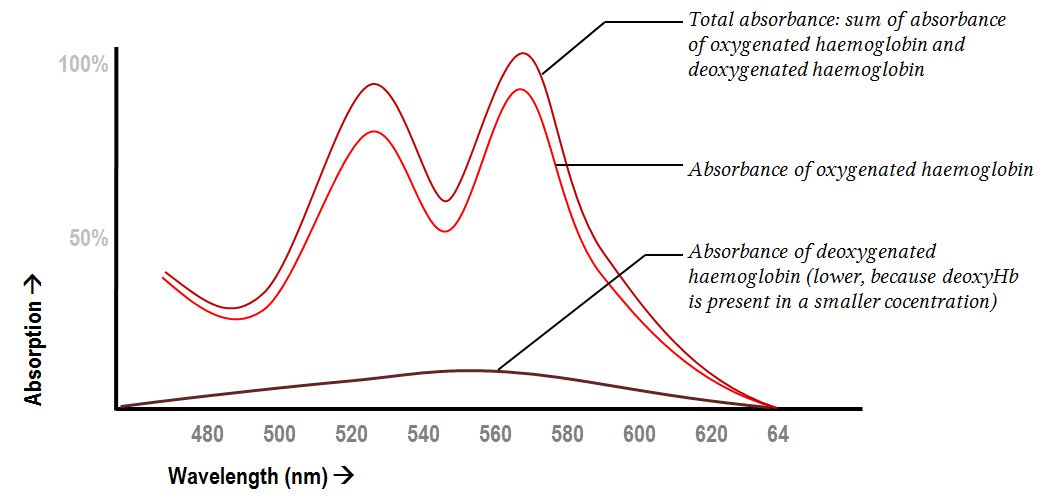 The total absorbance is the sum of absorbance from all the haemoglobin species, all together. Thus, total absorbance correlates with the total haemoglobin concentration. The ABG machine reports this variable as ctHb.
Thus:
ctHb = cO2Hb + cHHb + cCOHb + cMetHb
Where cO2Hb is oxygenated haemoglobin, cHHb is deoxyhaemoglobin, and the others are obviously carboxyhaemoglobin and methaemoglobin.
Note that foetal haemoglobin is not included in this equation.
Interference with the measurement of total haemoglobin
The total absorbance incorporates the absorbance of the abovementioned haemoglobin species, as well as a bunch of non-haemoglobin substances which share the same absorption characteristics - i.e. they absorb light at the same range of wavelengths as haemoglobin. Obviously, this is a problem: if these substances are present in high concentration, the concentration of total haemoglobin will appear higher.
The blood gas analyser detects some of these errant spectra, and corrects for them.
For instance, this is what happens to foetal haemoglobin, sulfhaemoglobin and Intralipid (the turbidity of extra-fatty blood can play havoc with the absorption spectrum).
Foetal haemoglobin (HbF) has a specific spectrum, slightly different to adult haemoglobin. The presence of a small amount of HbF will alter the shape of the absorbance/wavelength curve in a predictable fashion, and if it is detected the analyser will correct for its presence- i.e. the estimated foetal haemoglobin contribution will be subtracted from the total haemoglobin absorption measurement. This way, the ctHb is still an honest answer to the question "what is the total haemoglobin level".
Those who have bought the premium model may even get a HbF level on the print-out.
Accuracy of ABG measurement of total haemoglobin
"Do a formal", they say. "I don't trust this result". Why do they say such things?
It is not because of some sort of intrinsic Luddite distrust of machinery (in fact the intensivists are generally quite gadget-friendly). It is because there is a demonstrated discrepancy between ABG and FBC haemoglobin measurements. This discrepancy, at least in one study from 2013, was about 9g/L.
This, of course, was compared to the standard laboratory measurement of haemoglobin.
Which leads one to ask: if this is such an inaccurate method, then which method can we actually trust?
Well.
The International Council for Standardization in Hematology has issued a decree, that the hemiglobincyanide method be used as the gold standard, against which all others are referenced. One is tempted to digress extensively about it, but one will not. Suffice to say that it is also a spectrophotometric method, which takes advantage of a unique absorption spectrum of the very stable product of methaemoglobin and cyanide. For those who are interested, the exact process is described in this WHO document, with amazing detail ("Turn the photometer on and allow it to warm up for 5-10 minutes", etc).