Muscarinic M1 Gq protein coupled – second messenger is IP3, increase intracellular calcium
Increased cognitive function, eg. memory
Increased seizure activity
Muscarinic M2 Gi protein coupled – inhibit adenylyl cyclase, decrease cAMP
Miosis (contraction) of the pupillary sphincter muscle
Contraction of the ciliary muscle for far vision
Significant reduction in heart rate
Significant reduction in atrial contractility, and shortened action potential duration
Significant reduction in the conduction velocity of the AV node
Slight decrease in ventricular contractility
Increased motility and tone of the stomach
Relaxation of gastric sphincters
Stimulation of gastric secretion
Contraction of the gallbladder
Relaxation of the intestinal sphincters, and increased intestinal motility
Muscarinic M3 Gq protein coupled – second messenger is IP3, increase intracellular calcium
Miosis (contraction) of the pupillary sphincter muscle
Contraction of the ciliary muscle for far vision
Salivation and dilation of the salivary ducts
Greatly increased nasal mucus secretion
Increased production of nitric oxide synthase by the vascular endothelium
Increased motility and tone of the stomach
Relaxation of gastric sphincters
Stimulation of gastric secretion
Contraction of the gallbladder
Relaxation of the intestinal sphincters, and increased intestinal motility
Bladder detrusor muscle contraction, and relaxation of the trigone sphincter
Generalised secretion of the sweat glands (not just sweaty palms, but all over)
Increased secretion of the pancreatic juice
Muscarinic M4 Gi protein coupled – inhibit adenylyl cyclase, decrease cAMP
Inhibition of neurotransmitter release in the CNS
Facilitates Dopamine release
Muscarinic M5 Gq protein coupled – second messenger is IP3, increase intracellular calcium
Facilitates Dopamine release
M1, M3 and M 5 are Gq protein coupled: the second messenger is IP3, and the result is calcium release.
In general, the rule of thumb for these receptors is the excitation of excitable tissue, and the activation of various glandular and secretory function.
Most glandular cells, posed with a massive influx of diacylglycerol and IP3 will begin to secrete stuff. Similarly, smooth muscle will contract when there is a calcium influx.
M2 and M4 are Gi protein coupled: they deactivate adenylyl cyclase, and decrease the levels of cAMP.
Broadly speaking, these receptors are membrane stabilizers.
Excitable tissues hyperpolarize, inward rectifying potassium currents start flowing, voltage-gated calcium channels are inhibited.
These are ligand-gated sodium channels (more accurately, cation channels)
There are several varieties; structurally they are sufficiently different to bind different drugs.
The receptor species at the neuromuscular junction is distinct from the species you will find at the autonomic ganglia.
Yes, Nicotine is an agonist for both neuronal and neuromuscular subtypes of nicotinic acetylcholine receptors.
These receptors cause a RAPID increase in membrane permeability to sodium and calcium. The door is open for less than a millisecond.
During that time, some 50,000 sodium ions force their way into the cell, causing immediate depolarization of the membrane.
The channel is not particularly selective; while it is open, potassium is able to escape from the cell. This is the channel feature which causes suxamethonium-induced hyperkalemia.
The structure of these receptors is pentameric.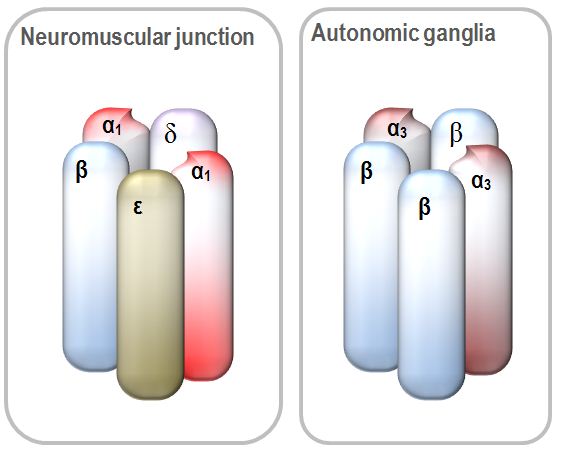 All of them have 5 subunits.
For the neuromuscular junction receptors, the five subunits are beta, delta epsilon and two alpha-1
The two alpha-1 subunits act as the binding sites of acetylcholine as well as the whole lot of neuromuscular blocking agents.
For the autonomic ganglia receptors, the five subunits are three beta and two alpha-3
The two alpha-3 subunits also act as binding sites for acetylcholine, but they will not bind neuromuscular blocking agents.