The QRS axis is the mean direction of electrical current propagation through the myocardium.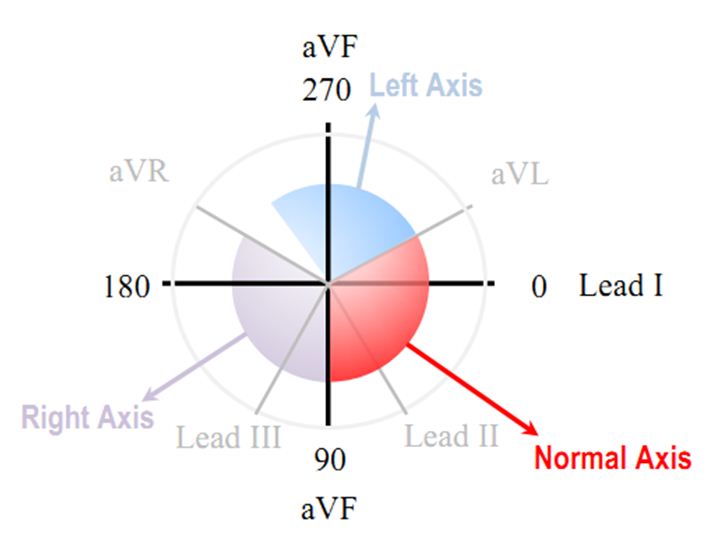 There are several methods to determine this direction.
The isoelectric lead method
The AXIS is the chief direction of QRS propagation in the vaguely coronal plane.
To find the Axis in two steps, one must focus on the left side of the ECG.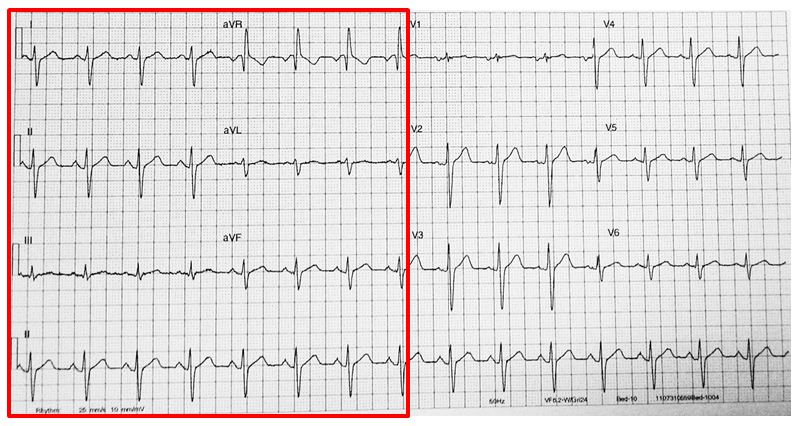 1) Select the lead with the most isoelectric trace; i.e. the lead in which Q and R waves are of the same height. The axis will be perpendicular to that lead orientation. You need another lead to determine which direction the QRS is pointing in.
2) Select the lead which is perpendicular to the isoelectric lead This is the lead which will give you the direction. In the ECG presented here, the isoelectric lead is aVF; its perpendicular lead (lead I) is negative, suggesting the impulse is travelling away from Lead I – which makes this a right axis deviation.
Which leads are perpendicular, you ask?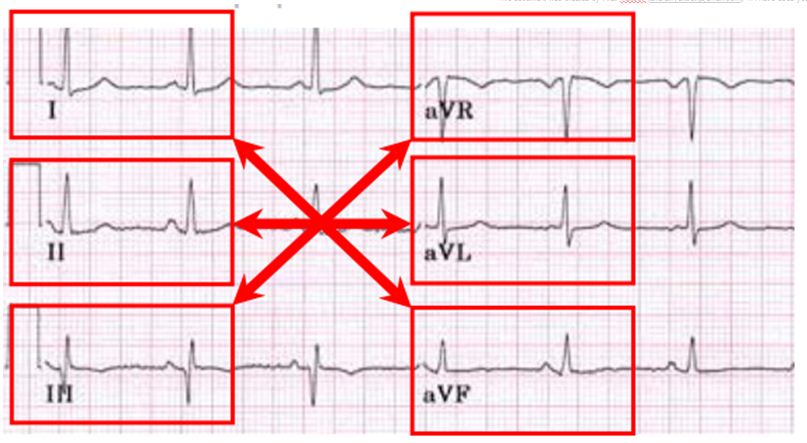 Lead I is perpendicular to aVF
Lead II is perpendicular to aVL
Lead III is perpendicular to aVR
The quick look method
Looking at aVF and Lead I alone will usually give you the axis.
Normal Axis
- Lead I is POSITIVE
- aVF is POSITIVE
Left Axis
- Lead I is POSITIVE
- aVF is NEGATIVE
- Lead II is NEGATIVE
Right Axis
- Lead I is NEGATIVE
- aVF is POSITIVE
- Lead III is POSITIVE
No Mans Land
- Lead I is NEGATIVE
- aVF is NEGATIVE
The Quickest Look Method
Just cheat, all's fair.
The ECG machine will frequently print out the axis.
- Normal axis is -30 to 90.
- Left axis is anything more negative than -30
- Right axis is anything more positive than 90.