"Sick euthyroid syndrome" is characterised by low T3, low T3/rT3 ratio, and a normal-ish TSH, reflecting the fact that normal hormonal feedback is dysregulated in critical illness. The "sick euthyroid" syndrome is a part of the generalised response to critical illness, and reflects a sort of "hormonal economy". Whether it is an adaptive or maladaptive response - this remains a topic of debate. Question 25 from the second paper of 2013 and Question 14 from the second paper of 2021 had brought this up. Even in those SAQs, there was little attention paid to it: the candidates had to "briefly outline" the hormonal pattern which is to be expected, and discuss the management for 15% of the total mark.
Typical TFT abnormalities in sick euthyroid syndrome
T3: low
rT3: high
T3/rT3 ratio: low
T4: high ...or normal
TSH: high ...or normal
This can be expressed as a graph: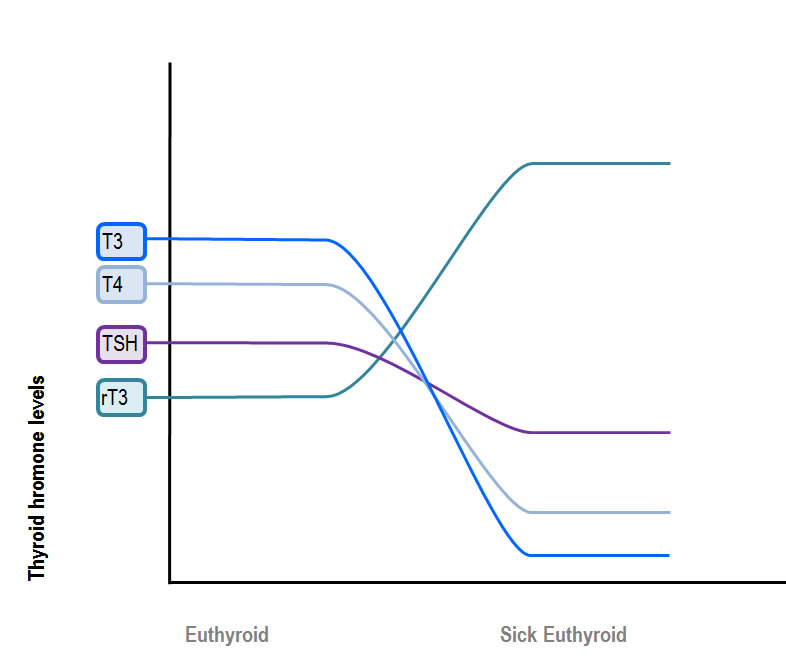 In short, the sick euthyroid syndrome is a biochemical pattern of decreased circulating T3 levels, without a strong compensatory TSH response. The raised levels of rT3 result in a disproportionate degree of thyroid dysfunction, as rT3 is an inactive form, and therefore a competitive antagonist of "real" T3.
Pathophysiology of sick euthyroid syndrome
In brief, it is a disorder of decreased T3 levels along with the presence of abnormally large amount of rT3 which is biologically inactive and thus acts as a competitive antagonist of T3. The overall thyroid dysfunction is thus amplified, and the pituitary gland responds to this with complete indifference, without any increase in TSH production.
In order to understand this mechanism, we must briefly digress into thyroid hormone metabolism.
Normally, T4 is converted peripherally in to T3 (which is a useful hormone) and into rT3 (which is biologically useless). There is usually vastly more T3 than rT3.
In critical illness, the most noticeable acute effect on thyroid function is a change in the peripheral metabolism of T3, which diminishes. Peripheral Type 1 5-deiodinase expression decreases, and this is the hepatic enzyme which is normally responsible for the conversion of T4 to T3 - thus, the levels of T4 may be raised (the clearance is reduced).
Then, there is the "reverse T3" issue. Reverse T3 is the product of peripheral monodeiodination by a Type 3 5-deiodinase. This deiodinase in induced in the tissues, particularly in the skeletal muscle - who knows how or why, but it seems to be the case. Vastly greater quanities of rT3 are produced, which has an inhibitory anti-thyroid effect. The rT3 also seems to compete with T3 as a substrate for the Type 1 5-deiodinase, resulting in less T4 being converted into T3, and more T4 thus being shunted into the T4-rT3 pathway.
This downregulation of thyroid activity is thought to be another facet of the energey conservation strategy seen in the acute stress response. The trigger for decreasing expression of Type 1 5-deiodinase and increasing expression of Type 3 5-deiodinase seems to be TNF-α, though many other cytokines have been implicated.
One might behold such a change in thyroid activity as an adaptive response to a state of starvation, when there are fewer metabolic substrates. One could argue that it is productive to decrease energy expenditure when exogenous provision of substrates is reduced. However, can we extrapolate this to critical illness? Critical illness is not starvation. Very different mechanisms are involved, and it is difficult to view hypothyroidism as an adaptive response to septic shock, for instance. Leslie J De Groot has published an excellent article which debates the question of whether or not sick euthyroid syndrome is an adaptive or a maladaptive response. He concludes that the answer should not matter to the pragmatic intensivist, because thyroxine supplementation is going to be harmless.
Management of sick euthyroid syndrome
So: what do you do about this? Farwell (2013) gives a good overview. In short, the most interesting feature of the management is that thyroid hormone supplementation will be useless. There's so much rT3 around that you're never going to get a clinical response from supplements anyway. You really just need to treat the underlying illness and correct the abnormalities which promote the syndrome. If you had to condense a management plan into a short point-form list, you'd probably produce something like this:
There is no benefit in routinely supplementing T3 or T4
Focus on the management of the underlying critical illness
Correct malnutrition (euthyroid sick syndrome is strongly associated with malnutrition and hypercatabolic states)
Use IV triiodothyronine to support patients who have euthyroid sick syndrome and some degree of heart failure or cardiogenic shock