Approach to the Hideous Whole Body Rash
Many past paper SAQs have asked the candidates to identify some rash, pupuric blotching, gangrenous embolic phenomena or some other visually impressive manifestation of disease. Irritatingly, the college examiners tend to remove these images from their published papers, presumably because they plan to reuse them. Previous questions of this sort have included Question 25.1 from the first paper of 2011 (erythema multiforme), Question 20.2 from the second paper of 2008 (Stevens-Johnson syndrome) and Question 10 from the first paper of 2005 (Toxic Epidermal Necrolysis). Question 15.1 from the second paper of 2012 was more about the non-specific approach to the evaluation of a gross whole-body rash. This approach is discussed below.
Generic list of differentials for a whole-body rash
Vascular causes:
Shower of emboli
Vascular insufficiency
Infectious causes:
Toxic epidermal necrolysis
Staphylococcal scalded skin syndrome
Viral exanthem/manifestations of viral infection
Fungal infection eg. candida
Neoplastic causes:
Cutaneous lymphoma/leukaemia
Drug-related causes
Stevens Johnson syndrome
Red Man syndrome (vancomycin)
Autimmune cause
Allergic reaction
Vasculitis
Erythema multiforme
Graft-versus-host disease
Traumatic causes
Diagnostic work-up of a rash
FBC for eosinophilia
Viral serology for HSV, VZV, HIV, EBC, CMV
Culture of exudate
Mycoplasma serology
Vasculitic screen
Skin biopsy
Erythema Multiforme
This was the subject of Question 25.1 from the first paper of 2011.
Characteristic pattern:
"target lesions"
Mucous membrane involvement, especially oral mucosa
Approximately 50% of cases are associated with herpes simplex.
Infectious causes:
Mycoplasma pneumoniae
Fungal infections eg. candida
Drugs which cause erythema multiforme:
Phenytoin
Barbiturates
NSAIDs
Penicillins
Phenothiazines
Sulfonamides
Toxic epidermal necrolysis
Stevens-Johnson Syndrome and TEN are considered diseases of the same spectrum. SJS is the less severe classification of the same disease: only ~ 10% of the skin surface is sloughed. TEN, on the other hand, is a condition of over 30% slough. In the 10-30% patients, the two conditions overlap.
Thus, the diagnostic features:
History of exposure to a new drug
1-3 weeks of waiting
Fever and flu-like symptoms for 1-3 days before skin eruption
Skin eruption: poorly defined macules with purpuric centres
Then, blisters and epidermal detachment
Symmetrical, primarily over face and upper trunk
Complications similar to burns
Mucosal involvement in 90%
BOOP and respiratory mucosal sloughing can also occur
Drugs which are known to cause TEN:
phenytoin
NSAIDs
Penicillins
Quinolones
Carbamazepine
Valproate
Allopurinol
Fluconazole
Sulfonamides
Barbiturates
Diagnostic algorithm
I found this originally on the LITFL facebook page. It immediately struck me as a work of genius.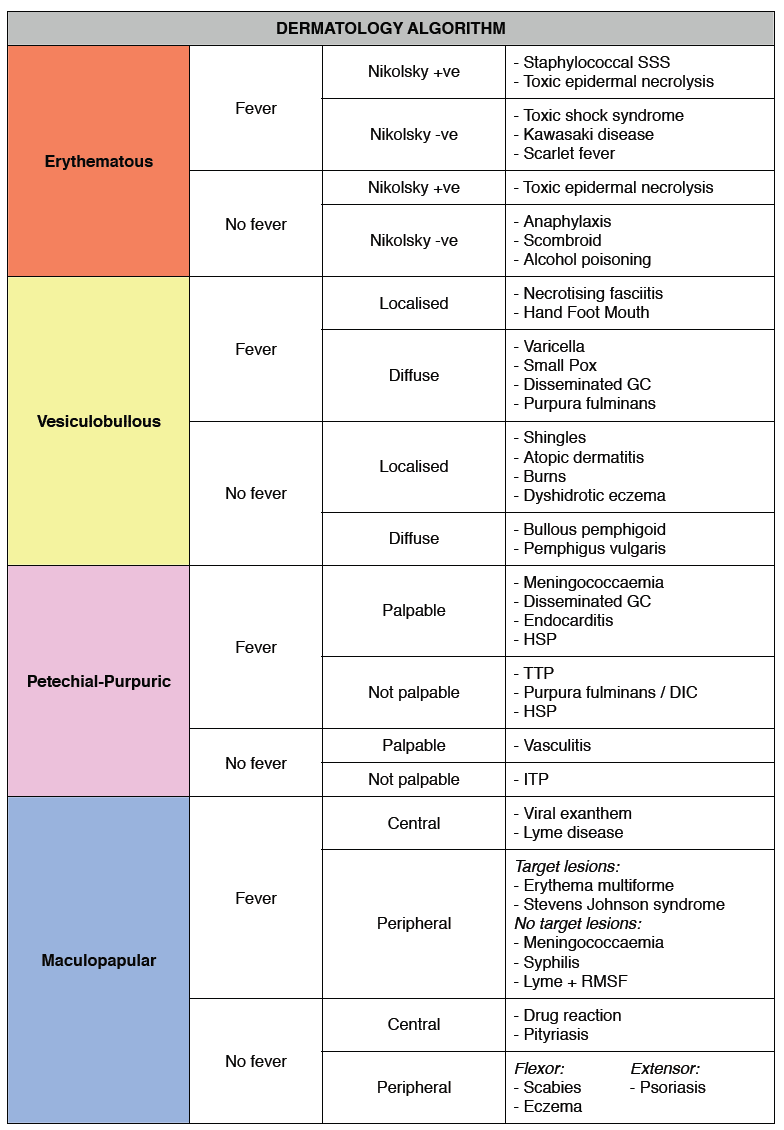 References
Ely, John W., and Mary Seabury Stone. "The generalized rash: Part I. Differential diagnosis." Am Fam Physician 81.6 (2010): 726-734.
Bachot, Nicolas, and Jean-Claude Roujeau. "Differential diagnosis of severe cutaneous drug eruptions." American journal of clinical dermatology 4.8 (2003): 561-572.
Clark Huff, J., William L. Weston, and Marciih G. Tonnesen. "Erythema multiforme: a critical review of characteristics, diagnostic criteria, and causes."Journal of the American Academy of Dermatology 8.6 (1983): 763-775.
Leaute-Labreze, C., et al. "Diagnosis, classification, and management of erythema multiforme and Stevens–Johnson syndrome." Archives of disease in childhood 83.4 (2000): 347-352.
Gerull, Roland, Mathias Nelle, and Thomas Schaible. "Toxic epidermal necrolysis and Stevens-Johnson syndrome: A review*." Critical care medicine39.6 (2011): 1521-1532.
Wiler, Jennifer L. "Diagnosis: Toxic Epidermal Necrolysis." Emergency Medicine News 29.9 (2007): 20-21.
Roujeau, Jean-Claude, et al. "Toxic epidermal necrolysis (Lyell syndrome)."Journal of the American Academy of Dermatology 23.6 (1990): 1039-1058.
Shiga, Sarah, and Rob Cartotto. "What are the fluid requirements in toxic epidermal necrolysis?." Journal of Burn Care & Research 31.1 (2010): 100-104.
Fromowitz, Jeffrey S., Francisco A. Ramos‐Caro, and Franklin P. Flowers. "Practical guidelines for the management of toxic epidermal necrolysis and Stevens–Johnson syndrome." International journal of dermatology 46.10 (2007): 1092-1094.