Many past paper SAQs have asked the candidates to identify some rash, pupuric blotching, gangrenous embolic phenomena or some other visually impressive manifestation of disease. Irritatingly, the college examiners tend to remove these images from their published papers, presumably because they plan to reuse them. Previous questions of this sort have included Question 25.1 from the first paper of 2011 (erythema multiforme), Question 20.2 from the second paper of 2008 (Stevens-Johnson syndrome) and Question 10 from the first paper of 2005 (Toxic Epidermal Necrolysis). Question 15.1 from the second paper of 2012 was more about the non-specific approach to the evaluation of a gross whole-body rash. This approach is discussed below.
Generic list of differentials for a whole-body rash
Vascular causes:
Shower of emboli
Vascular insufficiency
Infectious causes:
Toxic epidermal necrolysis
Staphylococcal scalded skin syndrome
Viral exanthem/manifestations of viral infection
Fungal infection eg. candida
Erythroderma due to streptococcal toxic shock syndrome
Neoplastic causes:
Cutaneous lymphoma/leukaemia
Drug-related causes
Stevens Johnson syndrome
Red Man syndrome (vancomycin)
Autimmune cause
Allergic reaction
Vasculitis
Erythema multiforme
Graft-versus-host disease
Bullous pemphigoid
Traumatic causes
Diagnostic work-up of a rash
FBC for eosinophilia
Viral serology for HSV, VZV, HIV, EBC, CMV
Culture of exudate
Mycoplasma serology
Vasculitic screen
Skin biopsy
Erythema Multiforme
This was the subject of Question 25.1 from the first paper of 2011.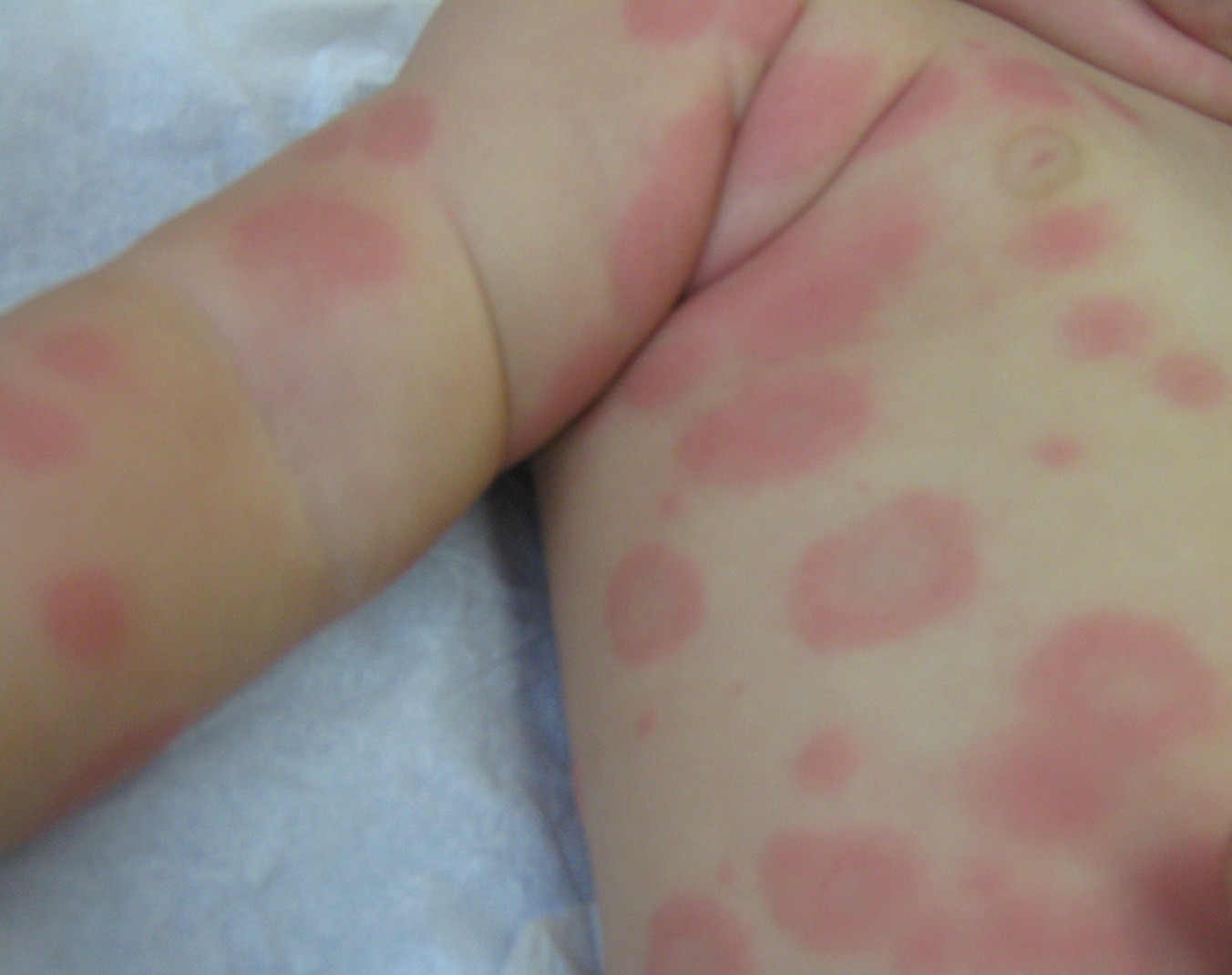 Characteristic pattern:
"target lesions"
Mucous membrane involvement, especially oral mucosa
Approximately 50% of cases are associated with herpes simplex.
Infectious causes:
Mycoplasma pneumoniae
Fungal infections eg. candida
Drugs which cause erythema multiforme:
Phenytoin
Barbiturates
NSAIDs
Penicillins
Phenothiazines
Sulfonamides
Toxic epidermal necrolysis
Stevens-Johnson Syndrome and TEN are considered diseases of the same spectrum. SJS is the less severe classification of the same disease: only ~ 10% of the skin surface is sloughed. TEN, on the other hand, is a condition of over 30% slough. In the 10-30% patients, the two conditions overlap.
Thus, the diagnostic features:
History of exposure to a new drug
1-3 weeks of waiting
Fever and flu-like symptoms for 1-3 days before skin eruption
Skin eruption: poorly defined macules with purpuric centres
Then, blisters and epidermal detachment
Symmetrical, primarily over face and upper trunk
Complications similar to burns
Mucosal involvement in 90%
BOOP and respiratory mucosal sloughing can also occur
Drugs which are known to cause TEN:
phenytoin
NSAIDs
Penicillins
Quinolones
Carbamazepine
Valproate
Allopurinol
Fluconazole
Sulfonamides
Barbiturates
Non-drug causes of TEN:
Mycoplasma pneumoniae (next most common cause)
HIV
HSV
Influenza virus
Coxsackie
Mumps
Malignancy (though this is usually listed as a risk factor or association)
Management of TEN:
The best literature for the management of TEN is unfortunately paywalled (Fromowitz et al, 2007). That particular article shines brightest because they incorporate a long (28-point) list of management recommendations from the University of Florida protocol. Fortunately, Schneider & Cohen have an even better article, which is more recent (2017). Additionally, the 2016 UK guidelines are available as a free PDF (Creamer et al, 2016). These and other resources have been remixed and recut into the summary below.
Supportive management:

A- Intubation is almost inevitable because of the sedation and analgesic requirements
B- Wherever mechanical ventilation can be avoided, humidified oxygen is preferred to regular wall oxygen because of the mucosal injuries
C- Expect a hyperdynamic vasodilated circulation with hypovolemia:

Replace lost fluid (see F below)
Vasopressors to maintain MAP targets
Use PICC access (anticipating long term IV access requirements with few normal patches of skin available for PIVCs and CVCs)
Beware of line dressings. Where possible, avoid adhesive dressings.

D - Expect complex pain needs:

The patient will likely require a multimodal approach to analgesia with some combination of IV opiate and opiate-sparing agents like ketamine. For dressing changes, expect to need either general anaesthetic, ketamine sedation or methoxyflurane.
Psychological support will be required to the patient and family (disfiguring illness, prolonged ICU stay, extreme pain - all the recipes for PTSD and depression)

E - Expect electrolytes to be deranged:

Hypernatremia due to water loss
Hypophosphataemia due to large-scale tissue regrowth

F - Not quite a burns-like fluid management strategy: fluid requirements are usually about 30% lower than for burns of a similar extent (Schenider & Cohen, 2017)

Replace large volumes of crystalloid, using a balanced crystalloid
Haemoconcentration is a guide to replacement adequacy
Albumin replacement will be required due to ongoing protein loss through wounds

G - Nutrition needs will be complex:

High caloric requirements, like sepsis (probably 125% of predicted) but lower than burns of a similar extent
High protein requirements (2.0-2.5g/kg/day) to account for losses and hypercatabolic state
Expect oral diet to be impossible owing to mucosal injuries; expect these injuries to frustrate NG placement. Early placement of a feeding NG tube is vitally important.
Anticipate constipation due to high dose opiates
Ensure vigorous ulcer prophylaxis (high dose steroids will be used)
High risk for C.difficile infection (likely, broad spectrum antibiotics will be used)

H - Expect the patient to be at high risk of VTE:

Chemical thromboprophylaxis needs to be fastidious, as there is usually nowhere to place TEDs and calf compressors

I - Infectious diseases specialists need to be included in decisionmaking. Broadly:

Antibiotics are not indicated unless there is a clinically evident infection
Topical antibiotics for conjunctiva are indicated (chloramphenicol)
Antibiotic-coated lines are indicated (especially if placed through affected skin)
If somebody started steroids, stop them.

Specific management:

The following therapies are all largely based on case series or expert opinion. Representative articles are included for reference.
Diagnostic algorithm
I found this originally on the LITFL facebook page. It immediately struck me as a work of genius.