Question 7.1 from the first paper of 2010 flaunted some blood tubes before the candidates; the specific feature was the presence of "chicken fat supernatant" suggestive of gross hyperlipidaemia. Other features associated with this condition may be lipaemia retinalis, corneal arcus senilis and xanthelasma of the skin or tendons.
The pictures were of a fairly poor quality. However, one must be grateful - most of the time these days the college remove the pictures from their papers.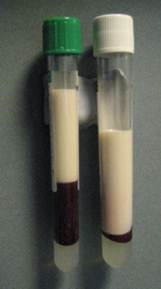 The specific "chicken fat" supernatant demonstrated in the college photograph is characteristic - that "cream" is all chylomicrons. In fact, this finding had in the olden days formed part of the classification of hyperlipidaemias- they used to observe "standing serum" to see if a supernatant would form. In the most severe forms of hyperlipidaemia, this fatty impurity can cause the blood to look milky and turbid.
In case anybody ever wanted to see a better picture of the supernatant, here is a shot of my collague's hand holding an EDTA tube with the blood of a pancreatitis patient. The presenting triglyceride level was 45g/L.
Causes of such appearance of the blood are all answers to the question, "What causes, or is associated with, insanely high serum lipid levels?" As far as recent literature for this obscure topic, one cannot go past the 1994 article by NJ Stone who listed a series of causes in his abstract. Mixed with the college answer,
Associations:
Severe pancreatitis
Hypothyroidism (classically associated with severe hyperlipidaemia)
Anorexia nervosa
Causes:
Corticosteroids
Cyclosporine
Oestrogens
Thiazides
Alcohol (in excess)
Familial hyperlipidaemia
TPN use (especially if you take the blood from the same CVC lumen, like some kind of idiot)
Propofol infusion
Thoracic duct injury
The latter comes from an answer to Question 7.1 from the first paper of 2010, written by my esteemed colleague Dr Hatem Elkady during one of our practice exam papers. He is proven correct by a 1973 paper (Cremer et al). The authors acquired a bunch of rats, ligated their thoracic ducts, then watched their serum lipids go through the roof. The liver, which logically becomes congested with chylomycrons, undergoes "pronounced morphological alterations". Needless to say, full marks were awarded. It raises the question of whether or not an inventive "outside the box" answer would score anything in the real college exam if the demonstration of its correctness requires a thirty-second Google search.